Welcome to Inspired Sculptures
Gallery of Western Mysticism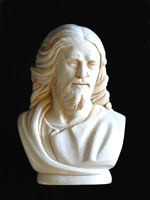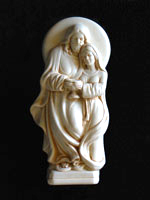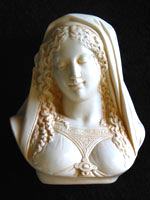 Welcome! SCROLL DOWN to see more stories and photos about our statues

Western Mysticism Collectible Sculptures, Jewelry, Art, and Stories made by our Family of Artisans near the Rogue River and Ashland, in Southern Oregon. We have travelled the World, inspired by each Culture and its Celebration of God. Each piece we create is a tribute to World Culture and our Origins, and has a very special story about the sculpture and what it represents to us.
Call us at MISSION STUDIOS 1(800)383-0232
Email me ann@inspiredsculptures.com to request a catalog or browse through our Gallery links below:
Celebrate the Blessings of
MARY MAGDALENE
Lady of the Labyrinth,
Keeper of The Sangreal,
Jesus's partner in the Teachings, she is our Divine Feminine Guide through the twists and turns of life. This Beloved Disciple is acknowledged in the Gospels as Jesus's devoted disciple and patroness of His Ministry of Peace and Love.

Mary Magdalene Pendant
The Beloved Disciple Pendant makes a graceful guardian for feminine devotion

click here or on the Mary Magdalene pendant to see more of our new line of jewelry





THE HOLY FAMILY'S
Flight into Egypt

JESUS and The Lamb

and our Beautiful Bust of
JESUS the CHRIST
Scroll Down for more MISSION STUDIOS
1(800)383-0232
HOLY MOTHER MARY
gives caring affection and attention in times of need and personal growth

GUADALUPE
Our Lady of Heaven
gives a message of Love and Compassion, the Universal Promise of Help and Protection for all Creation

HOLY MARY With CROSS
Mother of Jesus,
Lady of Heaven and Earth
gives a message of Love and Unity for all of Gods Creations

to see our beautiful celtic cross jewelry, click here
Scroll Down for more MISSION STUDIOS
1(800)383-0232
ST FRANCIS
Dancing to the Song of The Lord

Dance to the sun
Dance to the moon
Rise up
Dance to the Lord's Creations

ST FRANCIS

Humble Protector of Gods animals, Great and Small

JOAN OF ARC

Courageous Leader
inspires boldness scaling any obstacle between Earth and Heaven
Scroll Down for more MISSION STUDIOS
1(800)383-0232
The Angel Micheal and The Angel Gabriel

These Angel Friends help us remember that Angels are our Spiritual Friends in this Life Journey

The Angel Love with Twin Cherubs


The Companion Angel helps us remember that Angels are our Spiritual Companions in this Life Journey

The Angel Mermaids, meeting in the heart and creating a pearl of love

Angel Sculpture and Jewelry
MISSION STUDIOS 1(800)383-0232
Click here to see a collection of our NEW CREATIONS
COPYRIGHT 2006 MISSION STUDIOS and INSPIRED SCULPTURES