Welcome to Inspired Sculptures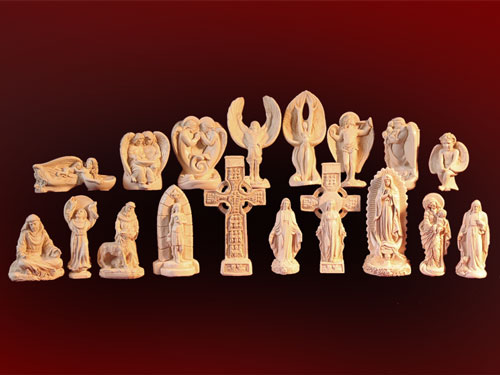 Welcome! SCROLL DOWN to see more
Click on the Photos or Links that interest you !

Collectible Sculptures, Jewelry, Art, and Stories made by our Family of Artisans near the Rogue River and Ashland, in Southern Oregon. We have travelled the World, inspired by each Culture and its Celebration of God. Each piece we create is a tribute to World Culture and our Origins, and has a very special story about the sculpture and what it represents to us.
Call us at MISSION STUDIOS 1(800)383-0232
Email me ann@inspiredsculptures.com to request a catalog or browse through our Gallery links below:
This sweet Angel is a cute companion
read more stories about our Angels
click on an Angel

read stories about our
New
MARY MAGDALENE
Statue,
Lady of The Labyrinth
Keeper of The Sangreal

Learn more about our new line of Jewelry, Pendants, Earrings and Lapel Pins
MISSION STUDIOS 1(800)383-0232
Click here to see a collection of our NEW CREATIONS
COPYRIGHT 2006 MISSION STUDIOS and INSPIRED SCULPTURES